Sanitary Disposal Services
RNR Services specialise in regular servicing of sanitary units in washroom cubicles.
Your washroom speaks volumes about your business to both your customer's and staff. Creating the right impression in today's modern washroom environment is essential and providing a high standard of safety and cleanliness has never been easier or more cost effective.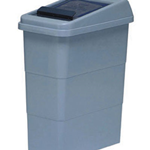 All sanitary disposal units are charged with a highly effective sanitising agent to eliminate odours and kill bacteria inside the unit.
On each service you will be left with a cleaned, recharged and sterilised unit. Servicing is at a frequency to suit you and is carried out in a professional discreet, and hygienic manner.
There is different size units available upon request, to suit your area size.
Sanitary Disposal Units
Our sanitary hygiene services provide a discreet, flexible and reliable solution for your sanitary waste disposal requirements.
Attractive sanitary disposal units of various designs and capacities suiting all locations
Sanitary units all have a hygienic masking tray
Granule deodorize placed in the sanitary unit break down the bacteria and remove unpleasant odours
Sanitary waste Disposal Services can be tailored to suit your requirements
Toilet cubicles vary enormously and a sanitary unit should fit easily between the toilet and wall yet be large enough to have maximum capacity
Our sanitary disposal unit service fully meets the need for something other than simply flushing waste down the toilet or placing it in a waste bin. For you it provides the safeguard of knowing that health, social and environmental concerns have been dealt with satisfactorily – but more importantly – legally. For women, we provide a clean, safe environment
Our guarantee to you is providing a safe, clean and sanitised environment.
Contact us today for a free (same day) assessment of your requirements