Air Freshener Dispenser Service
RNR Services offer a battery operated aerosol unit.
These electronic units deliver measured doses of fragrance at a timed interval.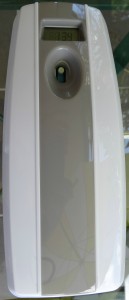 With a wide range of aerosol fragrances to suit all odour control situations, RNR Services uses only the best scents available.
These are the most effective odour control system in areas of heavy usage.
Each service, our fully trained staff service maintain the unit. Our wide range of fragrances will combat all malodour and give your areas a fresh, appealing environment.
Hassle-free Air Freshening
ABS plastic construction helps make RNR Services air freshener vandal resistant and the batteries are housed behind a secure screw cover to reduce vandalism.
Attractive Unit
With its compact, contemporary design, RNR Services is an ideal air freshening unit for all washrooms and communal areas. Available in complete white or white and grey stripe down middle, the unit will suit any existing colour scheme.
Positioned anywhere to suit your decor, on the wall or bench top.
Regular Servicing
Air freshener dispenser service benefit from regular no-hassle servicing, so you can be assured that your site will always have a pleasant atmosphere.
Contact us today for a free (same day) assessment of your requirements